Oysta Supports Carer and husband with Alzheimer's disease
Another great example of Oysta being used to support both the individual with a long term condition and also their caregiver.
Sarah and Robbie live in a beautiful countryside village with their dog Tarka. Robbie developed Alzheimer's disease and Sarah became his carer whilst trying to maintain relatively normal and independent lives for as long as possible.
Sarah begins saying: "As his disease progressed and Robbie still wanted to go for walks with his dog, Tarka. I made sure that he always had the Oysta in his pocket and it meant that he could continue to be independent and go for walks, without having me as a minder – and he really enjoyed doing that."
The Pearl+ is a mobile digital solution which enables self-care for Vulnerable Independent People (VIPs) living on their own.
The Pearl + connects to our care platform, IntelliCare™, so the care circle will be able to set safety parameters, locate VIPs and if needed, direct them home or direct help to their location.
Learn more about Oysta Pearl+
Sarah explains that unless she asked Robbie where he was going for a walk she wouldn't know where to look in a 4 mile radius around their village. Sarah also notes that as the disease progressed, Robbie didn't always like saying where he was going, or indeed go in the direction that he said he was going to go in – meaning that Sarah become more anxious in case Robbie became more confused.
This lead to a particularly scary incident in winter 2017 when Robbie did go for a walk but hadn't returned as planned: "I contacted Oysta and they amazingly knew exactly where he was and he was in totally the opposite direction to where he said he was going. To my horror they told me that he was much further away and on a very busy main road, about 4 miles away from home."
Gaining independence
As well as the safety and reassurance that Oysta brought to Robbie and Sarah it also meant that Sarah could continue to live a relatively normal life, doing the jobs and activities that she needed to do, without wondering whether she shold constantly go and check up on Robbie "for my peace of mind, it was vital."
Sarah would "highly recommend Oysta to anybody who is in a similar situation to myself, whose a carer for someone with Alzheimer's, Dementia or related disease – it's been a saviour for me!"
Book a FREE Demonstration
For more information on how we can help people who have Alzheimer's, please get in touch.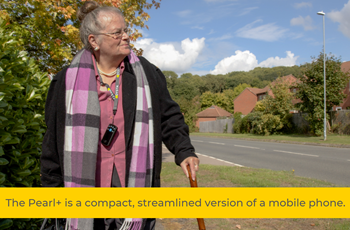 The Pearl+ is a compact version of a mobile phone. It provides peace of mind to VIPs that they can remain independent and safe when they are outside of the home, and their care circle stays informed and available at a push of a button.
Learn more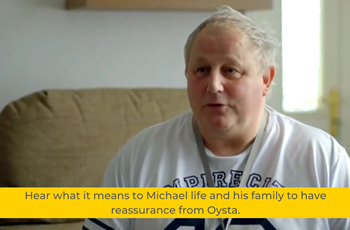 Following an incident Michael was left with physical mobility challenges that make moving around the house difficult and a risk of falls. A few bad falls whilst outside made him anxious about being on his own and mean that his wife needed to accompany him everywhere and was frightened to leave Michael at home alone.
Read Michael's Story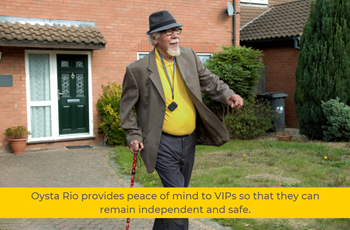 The Oysta Rio gives Vulnerable Independent People (VIPs) a discreet safety net so they feel confident to leave their home. The Oysta Rio can be carried in a pocket, on a keyring, or on a lanyard. It has an SOS button, that, when pressed will notify a chosen contact in the care circle or Alarm Receiving Centre (ARC.)
Learn more