Oysta Badge
Designed for everyone who performs an activity without close or direct supervision by others, the Badge is an autonomous lone-worker solution that combines powerful tracking technology within an easy-to-wear device.
Watch the video
A mobile solution
Featuring satellite tracking, and mobile and Bluetooth connectivity, the Badge monitors lone-worker well-being, wherever that employee is located.
Keeping you compliant
Satisfying legislation for lone-worker safety and protection, the Badge provides a reliable lifeline for those working independently from a wider team.
Badge has CE and RoSH certifications.
Oysta Badge key features
Depending on the risk or the situation, the Badge puts the user in contact with a real person. If a fall/man-down is detected, the Badge can be set to use auto-answer, hands-free mode, ensuring contact and continued safety in times of crisis.
Located at the back of the device are these 5 buttons:
• Power button
• SOS/Emergency button
• Speed dial
• Turn Man down or Amber Alert on or off
• Send a location update/proof of presence
A manual SOS alarm allows an employee to discreetly alert the monitoring centre if they find themselves in a potentially dangerous situation.
Set service GPS location interval (cycles). The Badge automatically reports its position to the Oysta platform providing real-time travel history.
See the location of all team members in real-time, to enable quick decisions on staff deployment and to flag any gaps in service provision.
As situations or risk level change, profiles can be constantly updated, to allow maximum lone-worker safety and protection
The Design
Easy to use, slim and light in its design, the Badge can be worn on a lanyard or a belt clip, so it is always close to hand. Your company ID pass can be inserted at the front of the Badge.
IntelliCare™
The Badge provides huge benefits to organisations and their high-risk workers, thanks to Oysta's powerful IntelliCare platform. Using the Badge, staff have the means to check in, communicate in routine situations and call for help in emergency situations.
IntelliCare collects and presents this live intelligence providing insight for management teams.
Book a FREE Demonstration
Book a FREE Demonstration of Oysta Badge and IntelliCare™, our care platform which keeps care circles informed. 
Other solutions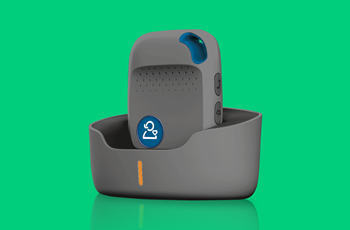 A powerful, discreet personal alarm, that aims to create a safety net for Lone Workers to carry out their duties in safety.
Learn more
The Oysta Ranger WP5 is pre-installed with the MyOysta Lone Working App to keep lone-workers safe & connected.
Learn more