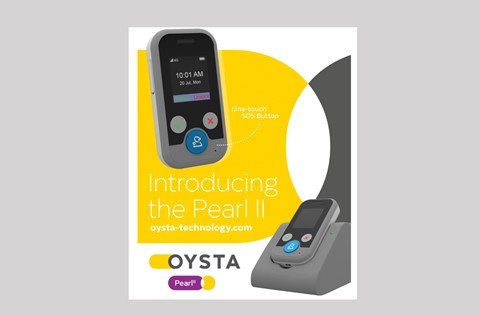 Introducing Pearl II
We are proud to introduce the Pearl II to our ever-expanding suite of digital telecare solutions.
Date. 20 Sep 2020
Tags. News
Incorporating the latest digital telecare technology, the Oysta Pearl II is linked to Oysta's innovative IntelliCare platform. Working alongside any other healthtech within the home, the Oysta Pearl II helps IntelliCare to collaborate information into a real-time picture of the VIP's well-being. Connected to a network of care providers (including nominated family members) any potential crisis scenarios are flagged and dealt with before a situation escalates.
Designed to increase usability, the Oysta Pearl II includes specific design developments to ensure that VIPs will adopt and use the solution, enabling increased safety in a shorter amount of time.
Discrete, light and very easy-to-use, the Oysta Pearl II is monitoring care and well-being as soon as the device is turned on. Providing the VIP with the benefit of Oysta's 24/7 cloak of care immediately.
Key features include:
Larger screen to ensure that the VIP can clearly see / respond to instruction
Larger buttons to enable ease-of use
Large SOS button
Magnetic charging cradle to ensure fast, easy charging functionality
Loudspeaker for clear 2-way communication
GPS tracking to enable fast VIP retrieval of VIP location
Please click here to learn more.
To discuss how the Oysta Pearl II can help you, or the VIPs in your care, please contact us here.