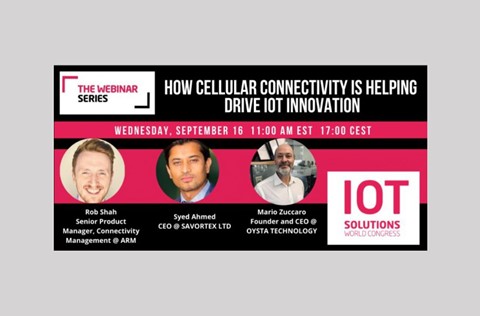 Join Oysta at IOT Congress 2020, tomorrow.
Connectivity for IoT is mission critical. Getting it right is difficult but getting it wrong can come at a real cost. Cellular for IoT is driving a new wave of innovation and digital transformation with its combination of capabilities creating new opportunities in a wide range of industries.
Date. 15 Sep 2020
Tags. News
When it comes to protecting vulnerable people or controlling the spread of infectious disease you don't want to worry about connectivity.
Mario will be joining Rob Shah from Arm Pelion and Syed Ahmed, CEO at Savortex, to talk about how mobile connectivity is driving innovation in IoT in the next IOT Congress 2020, tomorrow at 4pm (UK time)
In this webinar hear first-hand from the connectivity experts about why cellular and LPWA technologies are increasingly becoming the best choice when connectivity is mission critical.
If you would like to attend, please register please click here.