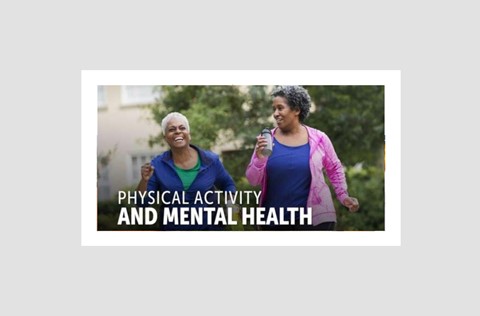 Mental Health Awareness Week 2021: The importance of physical exercise
Physical activity has a huge potential to enhance our wellbeing. It is estimated that even a short burst of 10 minutes' brisk walking increases our mental alertness, energy, and positive mood. Reducing stress and increasing self-esteem the benefits of regular movement play a huge role in improving the quality of life.
Date. 14 May 2021
Tags. News Blog
As we have all experienced this last year, the restrictions on socialising and movement have resulted in all of us being closeted away at home for long periods. For those able (and confident enough) to partake in an hour's daily exercise outdoors and with family members, we have been able to enjoy the mental and physical break away from the home. However, for older, more vulnerable people, this hasn't been the case. The findings from the Age UK report on the effect of COVID-19 on older peoples mental and physical health, found that regular physical exercise has made previously independent older people less mobile, which in turn has had a negative effect on mental health. The reports states that:
"Following months of staying inside, some older people have lost confidence in completing day-to-day activities which were previously completely normal and routine for them. Our research suggests that understandably, older people have lost confidence in going out to busy places or areas where they may be at higher risk of contracting COVID-19. Worryingly, some are even feeling less confident about leaving their home or seeing their family."
Asking older people how their confidence to do different activities had changed since the start of the lockdown, Age UK found that "One in five (17%) are less confident leaving the house by themselves, with One in five (18%) are less confident going for short walks outside."
Where once the challenge was to encouraging people to partake in physical exercise to improve mental health, we are now in a situation where we need to step back and focus on re-building confidence, before an individual may feel safe / ready to step foot outside of the door. There are then the additional concerns that families and care providers may have about a vulnerable person being out and about, away from their home or supported living accommodation, on their own for the first time in months. It is a unique scenario, and one that nobody has had experience of before.
In this complex scenario where care, reassurance and well-being checks need to happen constantly, whilst simultaneously encouraging independence, confidence, and exercise outside of the home, digital mobile care technology has never been more prominent.
Providing reliable 24/7 support, Oysta's mobile telecare solutions – designed in collaboration with service users and care commissioners to ensure ease of use and relevant functionality – will connect the VIP with help wherever they choose to exercise. Not compromised by geography or distance away from the home, whether bike riding in the surrounding countryside or walking in the neighbouring County, Oysta telecare technology will locate, connect and assist the VIP in times of anxiety or distress.
Supporting safer independence, to in turn support better mental health, Oysta have the solution to suit these post-pandemic times. Learn more about our telecare solutions here.
The full Age UK report can be found here.
*Image credit to MoveForwardPT.com