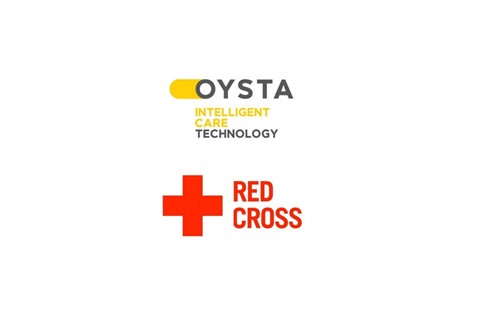 Oysta's partnerships with Red Cross Spain and Red Cross Portugal enables care in innovative ways
Supporting anyone anywhere in the word when crisis strikes, the Red Cross an internationally recognised charity and the world's largest humanitarian network.
Oysta has worked in close partnerships with both the Red Cross in Spain and in Portugal, providing each organisation with different Oysta services to their different needs, but with the common aim of care enablement. Oysta's expertise in telecare technology and fleet management has delivered long lived, successful projects across Spain and Portugal.
Date. 9 Mar 2021
Tags. News Lone worker Asset management
Working with the Portuguese Red Cross
Developing a strategic partnership with Prosegur and the Portuguese Red Cross, Oysta have been central to the delivery of an end-to-end service to domestic telecare service users.
Combing the leaders in telecare and urgent security response, Red Cross Portugal and Prosegur use Oysta's telecare devices, distributed by Prosegur, to be linked to the Red Cross's established 24/7 monitoring resource and customer alert response teams.
Access to 24/7 help & support
Combining the quality of the Oysta's telecare solutions, with the reach of Prosegur and the expertise of Red Cross Portugal, has resulted in an alliance that means large numbers of vulnerable people in Portugal can reliably access 24/7 help in times of distress.
"This is a powerful partnership that is delivering an important service across Portugal. Each managing the different elements of a chain of service that ultimately provides care and support to people when they need it, Oysta are very proud to have our telecare solutions at the heart of the initiative. We look forward to continuing to grow this project with our partners." Says Raimon Santamaria, Managing Director of Oysta Spain.
Working with the Spanish Red Cross
Ensuring that care can be provided when it is most needed, Oysta, in conjunction with Vodafone Spain, work with the Spanish Red Cross to provide the entire Spanish Red Cross fleet with a vehicle control and security system.
Security & Peace of mind
Enabling the Red Cross to know the status of their fleet and to ensure that only their authorised and approved volunteers drive the vehicles Oysta deliver an engine start lock.
The engine start system requires all drivers to prove their identity to the vehicle with an authorised Red Cross card – without this, the vehicle will not start. As well as providing added security for the Red Cross fleet, Oysta's intervention also provides total peace of mind for the organisation, knowing that only Red Cross staff can drive Red Cross vehicles.
Significant cost savings
The Red Cross vehicles have the CAN standard information bus system in the vehicle electronics. Oysta technology enables the Red Cross to access the wide range of low-level data from different vehicle systems to use to reduce running costs, improve driver safety, streamline maintenance processes and improve their environmental responsibility.
"The Red Cross Portugal fleet comprises over 3000 vehicles, monitoring and controlling the costs of fuel consumption, maintenance and more, allows significant savings for the client, which we are very pleased to provide for them.
"This partnership agreement is proving to be a success, thanks to the constant improvement and growth between the Oysta, Vodaphone and the Red Cross collaboration. We are proud to be a part this partnership." concludes Raimon.