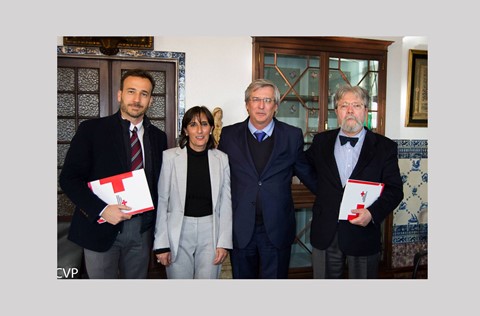 Oysta signs landmark agreement with Red Cross and Prosegur Alarms
Oysta Spain signs landmark agreement with Portuguese Red Cross (FMC) and Prosegur Alarms to provide TeleAssistance (Telecare) across Portugal
Oysta is proud to announce further growth in its channel strategy by bringing together two great Portuguese brands; Red Cross Portugal (Cruz Vermelha Portuguesa) and Prosegur Alarms Spain, enabling them to provide a digital telecare services to members of the public.
Date. 27 Mar 2021
Tags. News
The signing of the landmark agreement follows a rigorous testing period where multiple suppliers were evaluated in detail. Oysta was selected for a number of reasons, including the efficient screen to display messages and flexibility of the Oysta cloud-based platform and its effectiveness in deploying digital telecare services.
The new service, called "Always with You" provides instant telephone assistance direct to the Red Cross contact centre, available 24 hours a day, 365 days a year. Once connected, the trained operators can triage clients to the most appropriate service; emergency response, medical advice, home health care and consultation with a professional doctor. For an additional fee of the client can request a personal doctor home visit, guaranteed under service level agreements.
This 'pay-as-you-go' model for doctor appointments is new in Portugal and has the capacity to transform the way that health care is delivered to those in need; potentially reducing hospital admissions and doctor surgery waiting lists. This sort of change is required in our times of increasing demands on health systems through age increasing populations and the availability of the latest advances in care.
Clients receive an improved experience; quick access to trained personnel and a fast response should they need one – wherever they are!
As well as doctor consultations the Red Cross contact centre will monitor specific alerts generated by the Oysta mobile devices; falls detection, GPS "safety-zone" alerts, non-movement, and medical reminders.
Prosegur Alarms will promote this service through their sales and operational staff to their existing clients. The first stage of the project will aim to attract clients to become pioneers in this transformative approach.
Oysta launched a Mobile Telecare service in 2014 and today provides safer-independence to over 15,000 end users across the UK and Iberia. Our powerful cloud-based platform allows us to tailor services to meet specific individual needs and is being developed further to include artificial intelligence (AI) to help VIPs (vulnerable independent persons) to live independently and safely, for longer, at home and in the community.
The President of Red Cross Portugal Mr Francisco Enrique Moura, Manging Director Oysta Technology Spain Raimon Santa Maria and Prosegur Technical Manager Mr Manuel Duarte have signed a partnership agreement bringing together three great organisations, working together to deliver the new Always with You digital service.
Further information can be viewed on the Portuguese Red Cross news page (in Portuguese language only) Signed agreement with Oysta for the provision of TeleAssistance