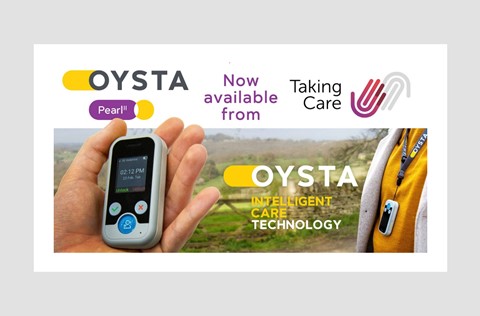 Oysta Pearl II is now a part of the Taking Care family of leading personal alarm products
From today, Oysta's Pearl II digital telecare solution is now a part of the Taking Care family of leading personal alarm products.
Oysta's innovative telecare solution is now available for individuals to purchase for themselves or a family member from Taking Care, this new collaboration will enable the benefits of the Oysta Pearl II, to be enjoyed by millions of people throughout the UK.
Date. 13 May 2021
Tags. News
Taking Care currently enable over 70,000 customers to live independently and safely in their own homes, Oysta are proud to be a part of this new partnership.
"Working in collaboration with Taking Care was a natural step for Oysta, as both companies share common values. Both working to provide quality care within the home, to enable vulnerable people to live independent lives, we knew that the Pearl II would be the perfect addition to their personal alarm portfolio. Providing digital telecare technology supported by our intelligent IntelliCare platform to the mix, now means that people can purchase a powerful telecare solution that will locate and provide assistance 24/7, no matter where the location."
Part of the AXA Health group of companies, Taking Care is the largest private personal alarm provider in the UK and the exclusive personal alarm provider to Age UK.
Steve Gates, Managing Director of Taking Care, says:
"Our customers are at the heart of everything we do. Working with Oysta Technology is a key part of our commitment to give older adults a choice in how they access support. We know that Oysta Technology shares our ethos, as can be seen with the Pearl II – its most customer-centric product to-date, designed by a panel of consumers, healthcare workers and commissioners, to deliver a product that is genuinely wanted and needed.
The functionality of the Oysta Pearl II combined with access to Taking Care's award winning, 24/7 emergency resolution services, means customers can be confident that they can get help in the event of an accident or fall."
The Oysta Pearl II is now live on the Taking Care website and available to purchase: https://taking.care/pages/oysta-gps-mobile-alarm