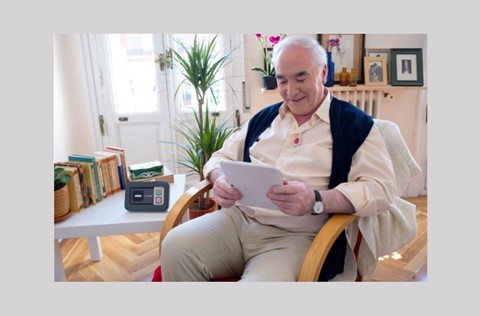 Oysta welcomes global telecare study.
Saving lives, preserving independence & delaying the move to a care home.
Confirming the vital contribution of care technology, the results from a global study commissioned by telecare provider Tunstall Healthcare, around the socio-economic value of telecare, is welcome verification for the industry.
Date. 8 Jun 2020
Tags. News
Involving three separate studies, it is the first independently evaluated, international research of its kind. It considers the benefits of proactive, reactive, and personalised use of technology to support people in their own homes, in the UK and Spain.
Featuring analysis of Lancashire County Council's emergency response telecare programme – one of the largest of its kind in the UK, the study highlights how telecare technology is helping older people stay independent at home for longer – delaying a move to a care home by nearly nine months and enabling local authorities to redeploy millions in social care funding.
Mario Zuccaro, CEO of Oysta Technology, which provides digital telecare solutions to Vulnerable Independent People (VIP) across the UK and Europe, applauds the spotlight that this ground-breaking piece of research has shone on the important contribution that telecare solutions provided to social care:
"Working within the telecare industry, we have long known the benefits that telecare technology provides both to its users, and to the Local Authorities to which the users belong. During this time, social care providers across the UK have been under immense pressure to provide increased care for our most vulnerable. Working in partnership with them, we have seen how Local Authorities and the NHS have been successfully adapting to the situation by increasing their adoption of telecare technology. It has made a huge and positive impact on people's lives, their health, and their safety. This important report is confirmation that telecare technology is a key part of the future of social care and I look forward to being a part of that evolution."
To read the full report please click here.
Picture Credit: Home Care Insight publication