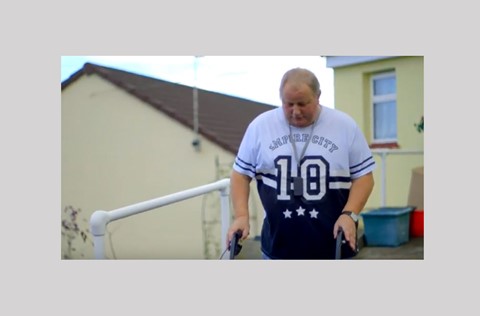 Oysta can change your life and give you the freedom that you need
We are delighted to present a new video from two Oysta users. Hear what it means to their life and to the lives of their families to have reassurance from Oysta.
Date. 5 Jun 2021
Tags. Personal stories
Following an incident Michael was left with physical mobility challenges that make moving around the house difficult and a risk of falls. A few bad falls whilst outside made him anxious about being on his own and mean that his wife needed to accompany him everywhere and was frightened to leave Michael at home alone.
Since having Oysta, they both feel they have greater safety and reassurance:
As Michael says: "It gives me more confidence to go out, more than I had before and at least I know that if anything did happen, there's someone at the end [of the call] that can come and get some help for me."
His wife and carer Deborah says: "I didn't go anywhere without him. I didn't trust myself as well as him because of his falls etc. But with Oysta now, it's just brilliant, I wouldn't know what to do without it now. I can go out and pop to the shops knowing that he's safe and if anything happens, I will get a call saying his alarm has activated."
In the second part of the video, Elizabeth who also suffers from mobility challenges explains how she wanted to remain at home, remain independent and remain active. Elizabeth had a specially converted bicycle so that she can continue to enjoy cycling and has completed over 20,000 nautical miles sailing despite her disabling condition.
But to remain so independent, Elizabeth needed more than a 'button & box' telecare service and her children wanted greater reassurance that wherever their mother is, help is available.
Elizabeth says: "The best thing about Oysta is that i'm not stuck in my house because I've heard other people have alarms that only work a short distance from their house, whereas with Oysta I can be anywhere in the country."
She goes on to say "Before Oysta I didn't have any personal alarm but when my 3 children knew that i was going to be living on my own, they insisted that I had some sort of personal alarm."
And finally "I would recommend Oysta, it can change your life and give you the freedom that you need."