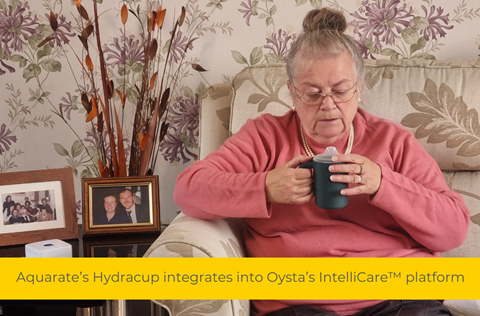 We are delighted to announce our partnership with Aquarate.
The core of our care platform, IntelliCare™ is to enable personalised and preventative care and Aquarate helps us to take this further by monitoring fluid intake using their Hydracup.
IntelliCare is a smart cloud-based platform which links all devices and sensors into one secure dashboard. Through the devices and sensors, IntelliCare gathers valuable insights as to a Vulnerable Independent Person's (VIP's) normal activity pattern and their home environment that help inform their care circle of the VIP's personalised care needs. It enables 24/7 support if a VIP is in distress as it links all major Alarm Receiving Centres (ARCs.)
Aquarate's Hydracup automatically tracks a VIP's fluid intake and displays this information in IntelliCare. The Hydracup can tell the difference between a sip, spill or pour, meaning only real consumption is recorded.
By monitoring fluid intake, carers can assess if VIPs are receiving enough fluid, or if they are at risk or showing early indicators of health issues enabling preventative care. Dehydration can also lead to falls and by monitoring fluid intake the fall risk is reduced.  
Oysta's IntelliCare platform with its connected devices and sensors simplifies technology-enabled care and provides care providers with the ability to transform reactive care into efficient, personalised, preventative care with 24/7 support.
Aquarate and Oysta are on a joint mission to enable people to continue to live their independent and active life for longer. Rebecca Taylor, CEO of Aquarate says "Oysta are giving people the freedom to continue to live on their own with the reassurance there when they need it. Technology enabled care is the way forward in our ageing population and giving that extra bit of peace of mind to family and carers is so important! We're very excited to hear some of the stories as a result of introducing the Hydracup to their lives."
Mario Zuccaro, Founder of Oysta Technology adds "IntelliCare enables preventative and personalised care and we are delighted that by adding the Hydracup to our strength based platform, we can enhance that further. Through IntelliCare, carers will be able to monitor water intake and identify any signs of health problems caused by dehydration and take preventive action."