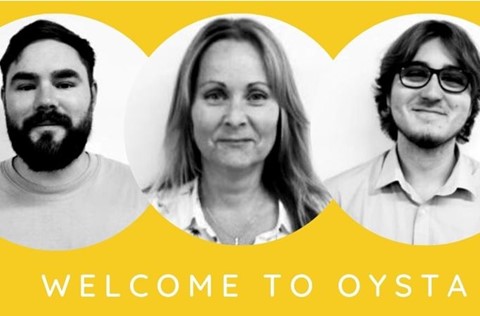 Oysta continues to grow with three new colleagues
2021 has seen significant growth for Oysta. Reacting to demand for service and solutions, Oysta have welcomed three new team members to Oysta HQ in Towcester.
Date. 11 Aug 2021
Kieran Lewis
Kieran's experience in the customer service sector will be put to good use as part of the Oysta customer services team. Previously working in a fast-paced customer services role that saw him working with partner businesses and customers, Kieran is ready to provide a high level of customer care for Oysta. Excited to develop his role and take on any opportunity for further training, Kieran becomes the third member of Oysta's customer service team.
Paula Kempster
Taking care of the entire team, Paula Kempster is our new Office Manager. Utilising eleven years of office managerial experience, Paula has hit the ground running taking care of all of our office needs, supporting the team and ensuring that customers and colleagues alike are looked after. Paula plans to put her organisational and management skills to good use to provide everyone with a positive Oysta experience.
Cody Rickard
Cody Rickard joins the Oysta team as our new platform support specialist, bringing with him skills and knowledge gained from his years spent working with datacentre operations and quality assurance. Cody's technical background will benefit his new role where he will be helping Oysta customers to resolve any complex technical issues that they may have. Looking forward to the opportunity to further developing his skills set, Cody is excited to a future as part of the Oysta family.