Oysta Pearl +
The Pearl+ is a mobile digital solution which enables self-care for Vulnerable Independent People (VIPs) living on their own.
The Pearl + connects to our care platform, IntelliCare™, so the care circle will be able to set safety parameters, locate VIPs and if needed, direct them home or direct help to their location.
Watch the video
Pearl +
The Pearl+ is a compact, streamlined version of a mobile phone.
Our Pearl + provides peace of mind to VIPs that they can remain independent and safe when they are outside of the home, and their care circle stays informed and available at a push of a button.
Pearl+ is ideal for...
Active VIPs that have started to experience memory loss/disorientation and may need locating
VIPs who would benefit from a simplistic device design
VIPs with visual impairments; the Pearl + has seven distinguishable buttons with braille on them.
Buying for a family member? Click here
Care Circle Benefits
Messages can be pre-set, flashing up on the Pearl+ display screen to remind the VIP to take medication.
You can see on IntelliCare™ where your VIP is located so if they need help, you can guide them directly to their location.
Should the VIP have a fall, it will automatically connect them to their chosen contact or Alarm Receiving Centre (ARC.)
Safe Zones are areas where the VIP is likely to travel. Should the VIP travel outside those safe zones, anytime or during specific times of the day or night, a care alert is triggered.
A significant step toward preventative care; WeatherWatch notifies the care circle if the VIP is outside after dark or in extreme weather conditions. You can conduct a welfare check before problems occur, and if needed, guide them home using the location feature on IntelliCare.
Only authorised callers from the care circle can contact Pearl+ which eliminates spam calls to the VIP. The whitelist can be changed at any time to add/remove contacts.
Through IntelliCare, you'll be notified if your VIP's device is switched on/off, has a low battery or if there has been 'no activity', indicating that the device has not been worn or used.
Once the Pearl+ is charged, the device should remain with power for up to 4 days depending on settings and usage.
Benefits to Vulnerable Independent People (VIPs)
When the VIP is in distress or simply needs peace of mind, they can press the blue SOS button. The Pearl+ connects the VIP to their chosen emergency contact or Alarm Receiving Centre (ARC) and makes a hands-free, two-way voice call.
In the event of a fall, an SOS call is automatically activated.
The Pearl+ has a loudspeaker and a sensitive microphone to allow clear voice communication.
When the device has a low battery, it prompts the VIP to charge the device
Auto Answer means that the call is automatically answered, so there is no need to press a button, saving time and effort in an emergency or a welfare check situation.
Book a FREE Demonstration
Book a FREE Demonstration of Oysta Pearl +and IntelliCare™, our care platform which keeps care circles informed. 
Discover more of our Telecare Devices
Telecare, making the difference to VIPs lives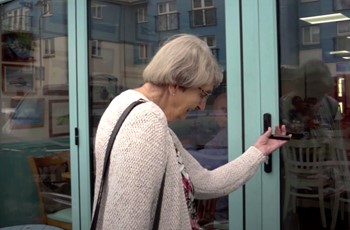 Betty was first introduced to Oysta after a stay in hospital. Unable to be discharged without some support inplace.
Helping Betty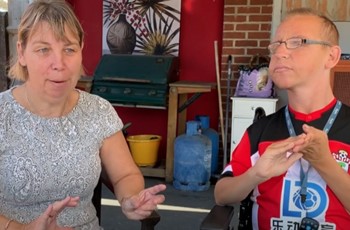 Giving Thomas and his mum Tracey confidence and peace of mind.
Helping Thomas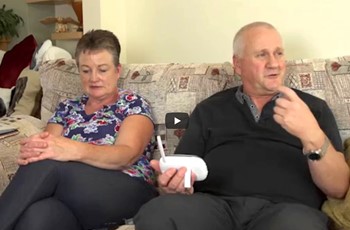 Liam is one of many people who use the Argenti equipment to remain independent and who's primary carers can be greatly supported by using it.
Helping Liam