Smarter Technology for you
At Oysta, we care about improving lives. Through our telecare technology, we support continued choice and independence for the people that choose to use our service. Designed in consultation with our service users, we are confident that you will find a telecare solution that will match your lifestyle and your needs, perfectly.
Technology to keep you safe
Bringing together mobile technology with the latest digital communications systems we provide easy to use personal devices and easy to install in home solutions, all of which link to the innovative Oysta IntelliCare platform. This enables us to support greater confidence and independence for people of all ages and abilities.
Unobtrusive well-being monitoring
Breaking the boundaries of traditional care, our telecare technology provides proactive care and support in the home, community or further afield. Working silently and unobtrusively in the background, people using Oysta telecare technology can continue to live and enjoy their lives as usual, safe in the knowledge that Oysta is there to help, when needed.
What benefits can Oysta offer you?
Providing you, and your family or carers with greater peace of mind and support, Oysta technology enables crisis prevention as well as responding to emergency alerts. Monitoring activity and patterns of behaviour, IntelliCare manages data in a safe, secure, encrypted way so your details are never compromised. Able to locate you when you raise an SOS or a fall is detected, then mobilise your care network to deliver the assistance you need, IntelliCare is the power behind all of our mobile telecare solutions.
Each telecare solution in the Oysta range has been designed to be extremely easy to use. No complicated training or installation is required with an Oysta device. Pre-set and ready to use straight out of the box, simply turn it on and you are immediately under the Oysta Cloak of Care.
When it comes to choosing a telecare solution, everyone is different. For some, it may be a simple solution that is worn on their person, to enable them to continue to live an independent life, but with the reassurance that help is always on hand, wherever they are. For others, it may be a combination of solutions that allow family and carers to set safety zones in the community and to monitor movement within the home. This would ensure that in the event of deteriorating health or confusion when alone and outside, the issue is flagged, and assistance is coordinated.
Through the innovative technology that Oysta utilises, we have been able to reduce falls, enable patients to be safely discharged from hospital sooner, and ensure that people can stay at home longer and out of long-term care.
Making a difference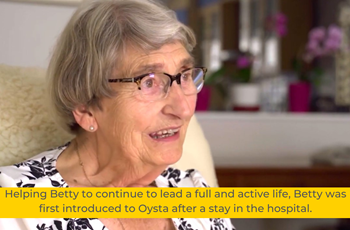 Betty was first introduced to Oysta after a stay in hospital. Unable to be discharged without some support inplace.
Helping Betty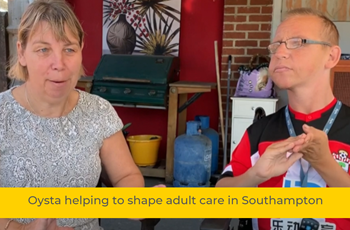 Giving Thomas and his mum Tracey confidence and peace of mind.
Helping Thomas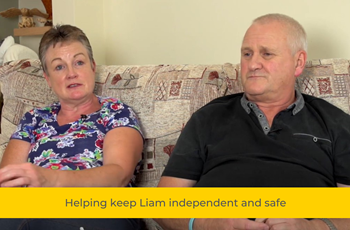 Liam is one of many people who use the Argenti equipment to remain independent and who's primary carers can be greatly supported by using it.
Helping Liam